| | |
| --- | --- |
| | MG LINKS |

All my links have something to do with MG-dom. I've tried to categorize them into 10 broad topic areas for easier viewing. As with my FAQ's page, just click on the red number to go directly to a category, or just browse through them all.
| | |
| --- | --- |
| 1. | MG-dom General Info Sites |
| 2. | MG V8/v6 conversion Sites |
| 3. | New MG Parts Sites |
| 4. | MG Repair/Restoration Shops |
| 5. | Performance & Specialty Sites |
| 6. | salvage yards - MG & ROVER |
| 7. | MG-dom Bulletin Board Sites |
| 8. | MG Clubs Sites |
| 9. | Publications Sites |
| 10. | Museums |
| & | "Just For Fun" |
These sites are ones I like or have found helpful. Have fun surfing. Oh, let know if you have trouble getting to a site because of address changes.
First, visit the MG Ring for everything MG. 'Nuff said!
.
I found a neat Canadian site, The MGB Experience, owned by Skye Poier that's full of information and tech tips from other MG owners to help the newest or most experienced MG restorer.
Check out Giles Forrest's The MG Place web site. His "car designer" is really neat to play with and watch as it changes colors, body styles, wheel and bumper options to suit your fancy.
Paul Tegler's Teglerizer site contains a wealth of information for anyone sorting out MG problems from paint codes to tube shock installation.
Will Prescott's recently redesigned MGBNet site has some neat MGB desktop themes for Windows that you can download as well as some great general information about MG's.
For anyone contemplating a rubber bumper to chrome bumper conversion, I highly recommend the UK-based MGB Chrome Bumper Conversion web site. Their detailed list of the work that must is right on and is an easy primer to follow when attempting the conversion; however, their prices are somewhat high as they are pounds-based. Most of us in the US can accomplish the work without any special parts and at a much lower cost.
Found AutoChart Inc's site that has "beau coup" information about the venerable MGB: production modifications, cylinder head interchange data, speedometer interchange data plus much, much more.
I recently ran across a British site, MGB Roadster Restoration Workshop Notes, describing the restoration of a 1966 MGB. Very good description of how to tackle some serious rust repairs along with other good info for the first time restorer. Enjoy.
Another pair of my good friends in MG-dom,Kim & Charles de Bourbon, are just putting their collaborative effort, MG Networks, web site on line. It also looks like it'll be a fun place to visit.
Eric Drechsel is developing a site dedicated to his MGB and the dumb stuff previous owners did to the cars we now own. Fun under development site to visit!
MG1100/1300 Specific:
If you're like me and own one or just like the little MG1100 series, Michael Carnell's MG Sports Sedan site is for you.
A new web site I just found is Michael Turner's UK-based BMC-1100-specific web site. He's still got some work to do on it, but its chock full of good information about the ADO 16's.
MG Magnette Specific:
The MG Car Club also has a Z & Farina Magnette Register that has some interesting information on the MG saloons.
MG-T Series Specific:
Since acquiring my 1953 MG-TD, I've begun surfing those type sites. I recently found Christopher Couper's The Original MGTD Home Page & have found it chock full of info about the T-series but also general info any MG owner could use.
&, I recently found Christopher's companion site, The Original MGTF Home Page.
MGB/C-Midget-MG/T parts:
We all know and love Moss Motors for anything related to MG's. I'm a distributor for them.
For quick service and good prices on new parts, I also go to Steve at Northwest Import Parts.
George Strickland at the B-Hive is a good source for parts. Always check prices on his site before ordering elsewhere.
And, I'm an authorized dealer for Victoria British LTD.
MG 1100/1300 parts
When I need unusual parts for my MG1100 that my Norwegian friend, Roar Nygard, can't find, I contact MiniCity, Ltd.
Oh, if you want NOS or used MG1100 parts, Roar can usually find them somewhere in Europe. For example: if you need one, he has the corner on NOS '63-'65 MG1100 turn signal switches. He probably has 30 or so!
Indiana:
Tucker Madawick's Bloomington, Indiana repair/restoration shop, Auto Sport, Inc.
Tennessee:
Tom Bedenbaugh's great British & Italian shop in Memphis, Imports & Sports Repair/Restoration.
Texas:
I don't know how I found this site, but the Sportscar Warehouse in Arlington has one of the nicest sites I've found yet. Their range of products & services is to be envied.
Performance Parts:
Dave Headley's Fast MG web site where he does business as Fab-Tek, designing & selling things to make MG's go real fast.
Visit Doug Jacksons' British Automotive site for exotic MG street performance parts; especially his tech tips-they're great!
Just found Calvert Racing's website. They sell racing suspension systems for common US muscle machines. They'll also custom-make anti-tramp bars to fit MGB's.
I'm sold on Pierce Manifolds out in Gilroy, California for Weber carbs, aluminum heads, etc. They're great folks to work with. Talk with Karen about your order & everything will go perfectly.
The RV8 headers on my V8 car will be gong to Jet Hot for high temperature coating.
Upgrade/Unique/Unusual MG Items:
Gerry Masterman, a friend down in Louisiana, recently formed a company named GEM Enterprises for the invention and manufacture of items unique to solving the various problems we find in/on our MG's. Some of his ideas are great! His site is worth a visit. His products are well worth the money!
Electrical System:
British Wiring, Inc's site is a must for anybody who has a British car. They CAN solve our Lucas problems with a new custom-built wiring harness that matches the original exactly but solves all its problems.
Added APT Instruments International, Inc of Bloomington MN. They are distributors for Smiths gauges & are known throughout the world for their performance in British sports cars. See their catalog of most popular Smiths gauges.
Instrument & Switch Repairs:
When you start thinking about rebuilding Smith's instruments, check Nisonger's site. (Bob's the speedo rebuild guy & Danny's the tach guy if you're modifying instruments to fit a V8.)
Thanks to my friend, Kim de Bourbon, I recently found Blue Sky's site about refurbishing MG switch estucheon's.
Paint & Body:
Robert Gordon's Paint FAQ website answers everyone's common questions when contemplating a repaint--either at home or by a professional. Well worth perusing.
Len Stuart's Autobodystore.com site is replete with tips & info for the novice bodyman. Plus, its a good place to start if you're just beginning your body/paint tool collection.
AutoBodyDepot.net's fabulous new web site. They've put on-line original paint chips & codes for every MG made since 1964, and I've contacted them requesting they add at least back to WWII.
Leather Upholstery Kits:
For something out of the ordinary, check out Mr. Mike's site. If you're going the Fiero seat route, he's the man to use. Heck, he's even developed an embroidered MG logo for me, & offers it for sale with his leather upholstery kits.
Gas Strut Hood/Hatch Props:
Ian Pender's Eightup site where he offers gas strut conversion kits for MGB hoods, trunks, & MGBGT hatches to replace those pesky BL hood/trunk lid stays & GT hatch stay assemblies. Ian also offers a neat fuse block that fits under the dash.
Zenith Stromberg Choke Repair:
If you've ever grumbled about your automatic water choke, Rick Jaskowiak's site is a must for you. Detailed repair instructions along with super photos make this site a winner.
Heater Control Valve
Bob Muenchausen's neat web site detailing modifications to improve water flow through the MG's heater control valve.
Racing Equipment:
Complete Auto Recyclers (C.A.R.) located near me in Brownsboro, Alabama is the place I usually go for Rover, Jaguar or other interesting stuff (No, there's no MG parts - I bought all of them already!). But, they have lots of Rovers, Jaguars, and Saabs. Just contact Jason - he's the man!
After you join the MG Cars Enthusiasts' Club Limited, you'll get access to their extensive bulletin board and its archives.
Don't forget Skye's

bulletin board. This is my favorite board, & the regulars seem to become pretty good friends--on & off the net!
And who can live without the

VIII. MG Clubs: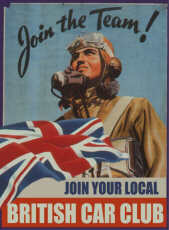 UK-based Clubs:
Probably my favorite site on the web is the MG Car Enthusiasts' Club Limited site. Its the quintessential site for everything MG-or any other British marque for that matter. Lots of offerings in their classified section; I visit it several times a day.
Also based in England is the MG Car Club.
And, the MG Owners Club.
US-based Clubs:
Then, there's the American MGB Association web site, the home of the oldest MG club in the US.
And, of course there's the North American MGB Register site.
Of course, the MG Council of North America site.
However, I would be remiss if I didn't also tell you about the North Alabama British Motoring Society, our wonderful local British car club.
Also, the Birmingham British Motoring Club in our capital city.
There's also the West Alabama British Car Club in Northport, Alabama just outside Tuscaloosa.
Staying in the South, there's also the Panhandle British Car Association in Pensacola, Florida. Its a multi-marque club that has a beach car show every April.
The Southern Indiana Region British Car Club has a new, growing site that has potential. Their "Road Trips" section ins neat, and, hopefully, they'll build a page with tips they've learned while building/driving their cars. Plus, they put on a great show in Newburgh, IN besides the Ohio River.
The St. Louis MG Club has a really neat site with lots of information about the MG automobile. Plus, they sponsor an interesting 1000 mile rally through the back roads of Missouri; might be something to try next year.
The British Sports Car Club of Memphis has developed a neat site that has lots of information about their shows and activities.
Atlanta has the ever busy Peachtree MG Registry club that hosts the Chateau Elan and Dillard car shows every year.
And, as if that's not enough, the British Tool Box website has a compendium of the URL's of most MG clubs across North America.
The MG Car Club Northwest Centre website covers the Pacific Northwest.
In Alaska its the British Sports Car Club of Alaska.
Texas: The Brazos British Motorcar Register web site.
On a recent trip to Cape Cod, Massachusetts I ran across a super sports car museum at a bed & breakfast in Hyannisport - Toad Hall. The museum has 58 sports cars - all RED! Among them are several beautiful MG's.